"Smooth roller coaster operation starts with the right kind of wheels! Our Custom Wheel Program allows you to keep your ride running smoother, quieter and more comfortable. With SAT wheels, your ride will run much longer - as will your servicing intervals!" -- Peter Schäfer, CEO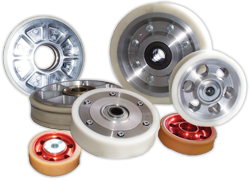 WHEEL REFURBISHMENT
Your worn-out wheels are shipped to our facility, where we remove the bearings and the old tread, and clean the entire rim. After checking for cracks and perfect fit of the bearings, we apply the new tread coating and check for fit and rotation. The pre-assembled wheels, including bearings and lubrication fill, are then shipped back to your facility.
Tread coating options are Vulkolan, PA 6 and PA 12.
WHEEL REPLACEMENT
We reproduce your individual wheels either per your technical drawings, or via 3D measurement of your sample wheel. The wheels are then produced with the same quality and precision described above.
We offer individual shipments as required, as well as subscription plans, where we produce your annual wheel replacement stock and hold it ready on call.



"Are you looking for spare parts specific to your ride and based on existing engineering drawings? Are you looking for a completely new and redesigned set of spare parts?"
Either way, our Spare Parts Program assures first-class quality and piece-of-mind safety in everything we manufacture. It also features reliable timely delivery and outstanding after-sales service.
To maintain the continued and safe operation of your ride according to the most recent DIN-EN standards, our Spare Parts Program can be your reliable partner.
SPARE PARTS PORTFOLIO
- Road, Side-Guide and Up-Stop Wheels
- Brake Fins and Brake Coverings
- Magnetic adn Friction Brake Systems
- Linear Induction Components
- Wheel Assembly Components
- Bogie Assemblies
- Suspension Components
- Restraint System Components
- Gas Springs
- Seat and Seat Assemblies
- PUR Foam Components
- Couplings and Bearings
- Fiber Glass Casings
- Electrical Components

FIRST-CLASS MANUFACTURING PROCESS